Welcome To The Home Of The
SLVFD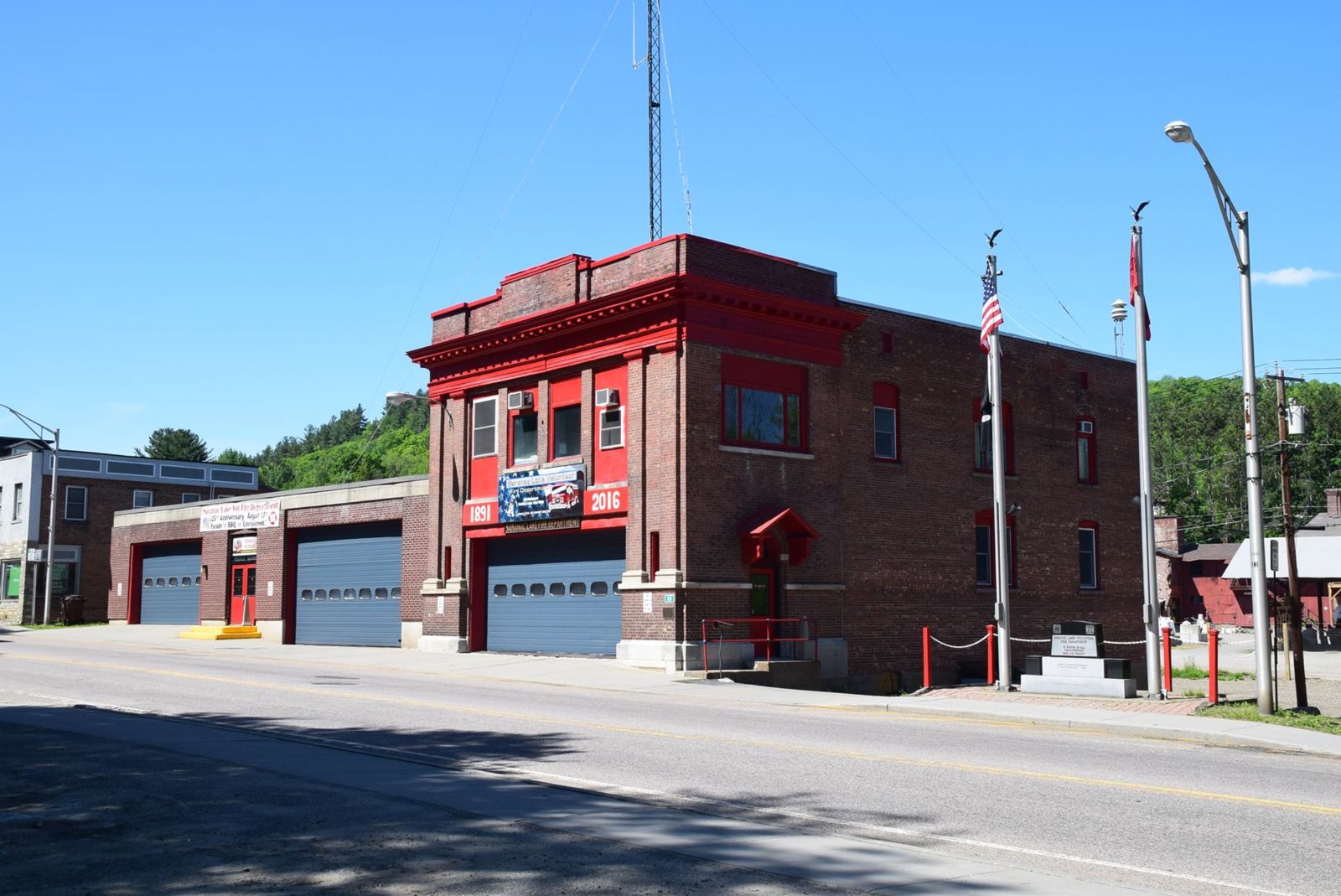 Click Here to see 2019-2022 Banquet Slide Show
Click Here To See Video 125 Years of Service
Click Here To See Recent SLVFD Incidents In The News
SLVFD responds to apartment fire on Bloomingdale Avenue

SLVFD News Room, September 21

The SLVFD was dispatched at 7:13 PM on Wednesday September 20, 2023 to a report of a smoke condition and audible alarms going off at 82 Bloomingdale Ave.

Upon arrival it was discovered that a large garbage bag full of Laundry was on fire next to the building outside in the backyard of the structure.

The laundry bag was quickly extinguished and firefighters simultaneously checked the affected ... (Full Story & Photos)



SLVFD honors the fallen on Memorial Day

SLVFD News Room, May 29

"Those who have long enjoyed such privileges as we enjoy forget in time that men have died to win them." Franklin D. Roosevelt.

It is in that spirit that we take the time to pause and remember that freedom is not free and the importance of memorial day. We are honored to participate with our community in remembrance of those who have paid the ultimate sacrifice.

Your SLVFD took some time on Tuesday ... (Full Story & Photos)



SLVFD members pose in full dress uniforms for a department photo.



Chief Keough presents award to Andy McGill for achieving 50 years of service with the SLVFD.

SLVFD holds annual banquet, annual awards announced

SLVFD News Room, May 21

On Friday May 19th The SLVFD held its annual banquet at the Red Fox restaurant in Saranac Lake.

The annual banquet is a time for the volunteers to take just a little time away from the stressors associated with the daily lives of being first responders.

A key word in our titles is "volunteer" and we should take a moment to recognize that in addition to all the work these volunteers do for the ... (Full Story & Photos)


SLVFD Elects 132nd Slate of Officers

SLVFD News Room, April 04

The SLVFD held its annual elections on April 4th 2023 and have selected it's officers for 2023-2024.

Congratulations to our new officers.

Chief, Brendan Keough

First Assistant Chief, Michael Knapp

Second Assistant Chief, Dominic Fontana

First Captain, Andrea Boon

Second Captain, Andrew Wright

First Lieutenant, Daryl Brier

Second Lieutenant, Nate Jones

Director (2 Year Term), Tim Donaldson ... (Full Story & Photos)

SLVFD Welcomes Probationary Firefighter Adam Mayville

SLVFD News Room, March 25

The SLVFD would like to welcome new member Adam Mayville. The SLVFD is excited to have him on board!

Adam is the purchasing agent at Trudeau Institute and has been in this position for four years. He has been an employee of Trudeau Institute for just under ten years. As the purchasing agent, he has to evaluate each supplier and consider their quality, availability, price, and reliability of their ... (Full Story & Photos)


SLVFD Welcomes Probationary Firefighter Dylan Gunther

SLVFD News Room, March 24

The SLVFD would like to welcome new probationary firefighter Dylan Gunther. The SLVFD is excited to have him with us!

Dylan works with the federal prison in the recreation department. He watches up to 400 inmates at a time! He enjoys the adrenaline rush that comes along with the job. He takes pride in his job and being in the position he is in to make sure that each and every staff member gets ... (Full Story & Photos)


SLVFD hosts joint training with wide range of agencies in "Public Safety Diving"

SLVFD News Room, March 12

The name of our little town, Saranac "Lake" is quite fitting. Our response area, the Adirondacks in general as well as the area's bordering the Saint Lawrence Seaway and Lake Champlain are filled with lakes, ponds, and rivers which bring a host of people living, working, and recreating on those waterways. Every year we are called on to respond to water and ice Rescues. In the year 2022 the SLVFD ... (Full Story & Photos)


Great Times at the 2023 Winter Carnival Broomball Tournament

SLVFD News Room, February 11

In keeping with this years winter carnival theme "Roman Around Carnival" We know that such famous venues as the Colosseum and Circus Maximus of Rome would host events involving magnificent processions, exotic animals, gladiator battles, chariot races, executions and even mock naval battles. But here in Saranac Lake our venue is the newly refurbished Civic Center and instead of gladiators, firefighters ... (Full Story & Photos)



Family of Todd Claremont, present the "Todd Claremont Broom Baller Award" to Chrissy Roudonis "Center" and Shea Arsenault "missing from photo"


2023 off to a busy start as the SLVFD completes Its busiest year on record in 2022

SLVFD News Room, February 05

2023 is off to a very busy start as Saranac Lake Volunteer Fire Department finished its busiest year on record with a total of 434 responses in 2022.

In addition to responding to 434 fire calls, SLVFD members put in over 1000 training hours and countless hours on work details, community service events, and meetings.

We would especially like to thank all our brave volunteer firefighters and paid ... (Full Story & Photos)

Click Here to See Slide Show
Adirondack Daily Enterprise "Year of the Floods"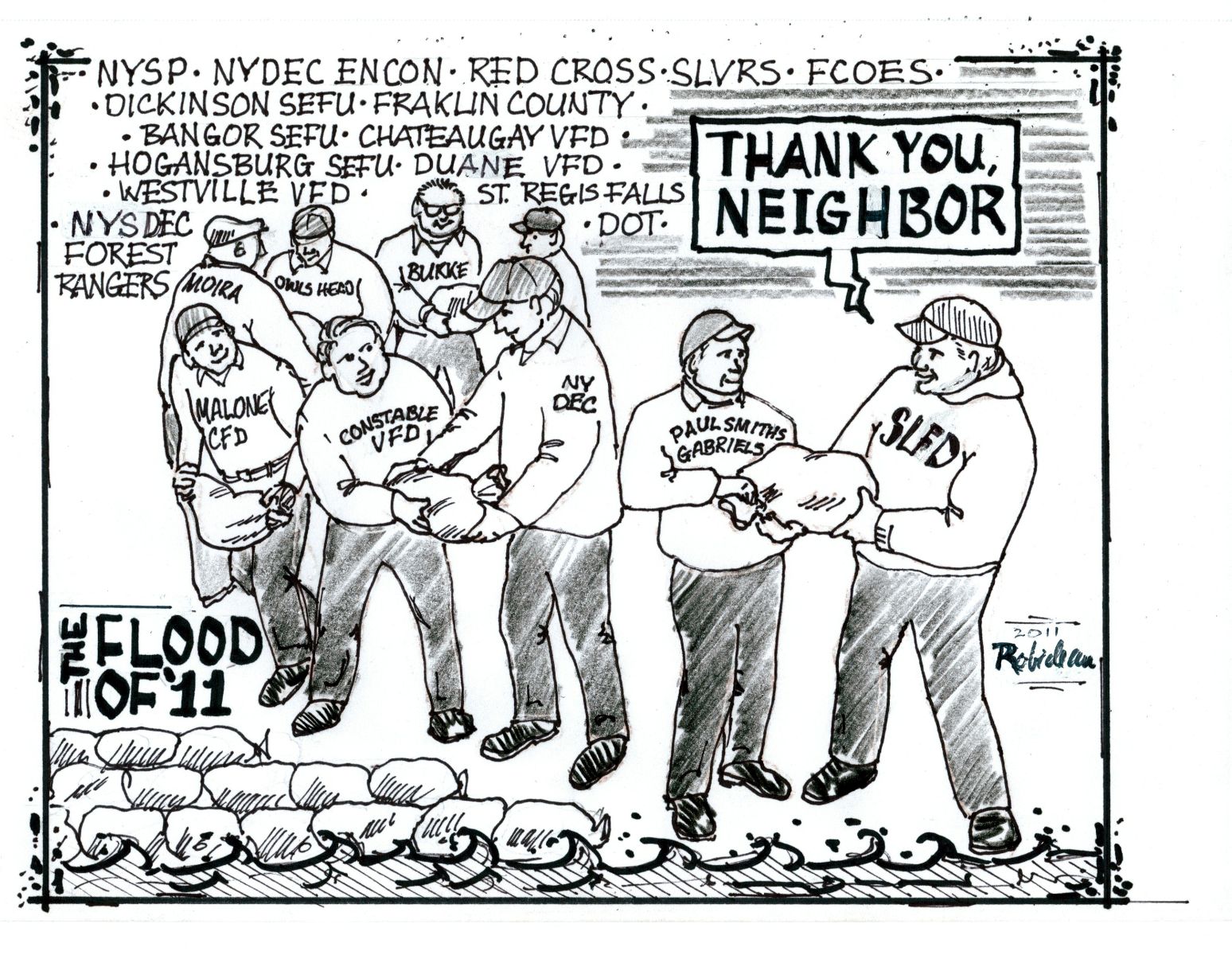 Contributed by Village of Saranac Lake Mayor Clyde Rabideau In Response to Major Flooding Incident April/May 2011
Click Here for Full Size Image
View NY State Daily Dispatch
Fire Service News From Throughout NY State