National Weather Service Alerts for Franklin County, NY
Welcome To The Home Of The
SLVFD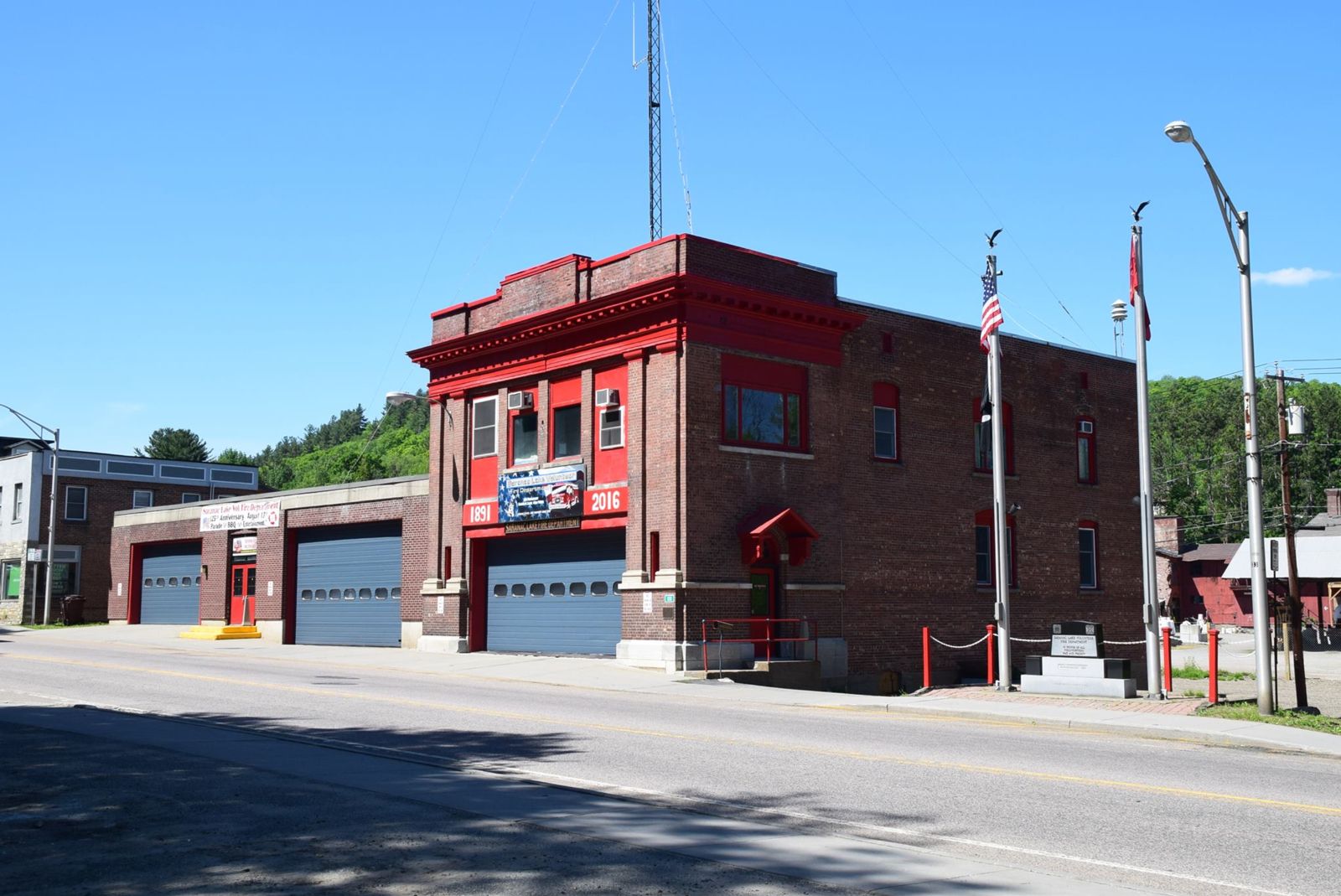 Click Here to see 2018-2019 Banquet Slide Show
Click Here To See Video 125 Years of Service
Click Here To See Recent SLVFD Incidents In The News
"Motorcyclist hurt in Saranac Lake Crash"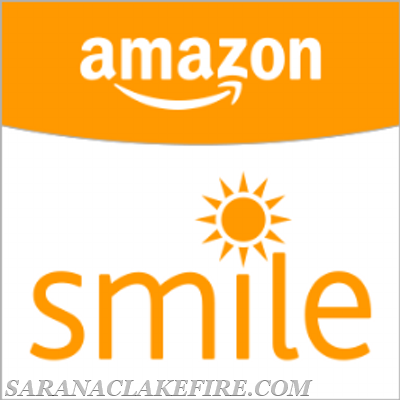 Click To Support Your SLVFD
SLVFD Dive Team provides coverage at Tupper Lake Tinman Race

SLVFD News Room, June 30

The SLVFD Dive Team assisted at the Tinman in Tupper Lake on Saturday June 29, 2019.

Team members assembled at SLVFD station at 5:30 am and were on site by 6:15 am with M349, Marine 3 and Heavy Rescue 147.

Divers assisted with pulling Tinman participants who needed assistance from the water and safely returning them to medical personnel on shore.

Three fully equipped SLVFD scuba divers were ... (Full Story & Photos)


SLVFD trains alongside of the Paul Smith Gabriels fire department and the Saranac Lake Volunteer Rescue Squad

SLVFD News Room, June 25

Recently area first responders attended training provided by North Country Life Flight. The topics taught and practiced were how to safely operate in the vicinity of the life flight helicopter, how to help select landing zones, and how to safely load and unload patients into and out of the helicopter while it is still running (Hot Loads).

Often times fire and EMS will call on helicopters to assist ... (Full Story & Photos)



New York State Police helicopter flies into position so first responders can rehearse loading and unloading patients with the rotors turning.



SLVFD Members L-R Lieutenant Michael Knapp, 2nd Assistant Chief Doug Peck, Firefighter Codey LaPage, and Firefighter Justin Fletcher.

SLVFD participates in NNYVFA's annual convention-Brings home some trophies.

SLVFD News Room, June 23

Last weekend members of the SLVFD traveled to Louisville to participate in the Northern New York Volunteer Fireman's Association 123rd Annual Convention. The convention started on Thursday with a golf tournament and past chief's dinner, Friday the convention continued with the annual meeting as well as memorial service. The convention wrapped up on Saturday with the annual parade, 5k mud run, youth ... (Full Story & Photos)


SLVFD Holds Annual Awards Banquet

SLVFD News Room, June 08

On Friday 6/7/2019 the Saranac Lake Volunteer Fire Department held its annual awards banquet. The annual banquet is our time to celebrate the hard work and effort put forth by our members each year. It is also a time for our families to enjoy a night out and to hear the words thank you for the sacrifices they make each and every time the members are absent on calls, trainings and meetings.

The awards ... (Full Story & Photos)


SLVFD Hosts 7th Annual Golf Tournament

SLVFD News Room, May 17

On May 11th, 2019 the Saranac Lake Volunteer Fire Department held its 7th Annual Golf Tournament fundraiser at the Saranac Inn Golf Club. 136 golfers from all around the area came out to enjoy a cool spring day and to show their support for the Fire Department. The fundraiser was a great success and it was nice to see everyone who participated. Congratulations to team Eckert who took 1st place, ... (Full Story & Photos)



2 of Team Eckerts members celebrate the win!!!



New SLVFD Members L-R Keegan Tyler and Codey LaPage.

SLVFD Welcomes Two New Members in May

SLVFD News Room, May 07

The SLVFD would like to welcome our newest members who attended their first regular department meeting on May 2nd. The SLVFD is always looking to attract new members. Members are expected to attend meetings, attend extensive training and respond to emergencies. It is a huge commitment, but for those willing to put forth the effort this is an extremely gratifying career where you can learn a new ... (Full Story & Photos)


SLVFD Elects 128th Slate of Officers

SLVFD News Room, April 02

The SLVFD held its annual elections on April 2nd 2019 and have selected it's officers for 2019-2020.

Congratulations to our new officers.

Chief, Brendan Keough

First Assistant Chief, Tim Donaldson

Second Assistant Chief, Douglas Peck

Captain, Casey Taylor

Lieutenant, Michael Knapp

Lieutenant, Dominic Fontana

Director (2 Year Term), Michael Boon elected to a new 2 year term.

Director (2 Year ... (Full Story & Photos)



From the Adirondack Daily Enterprise:The newly formed Saranac Lake Volunteer Fire Department Auxiliary is pictured. Its mission is to support the firefighters of the Saranac Lake Volunteer Fire Department in their pursuit of life safety, incident stabilization, and environmental and property preservation of the citizens they serve. The members of the auxiliary pursue their mission through activities supporting the fiscal public service and response support needs of the firefighters. Pictured from left are Ashley Peck with Adalein Peck, John Vallini, Barbara Kent, Pattie Clark, Kelly Wright and Patti Sauvie. (Photo provided)

Adirondack Enterprise Photo, Welcomes new SLVFD Auxiliary!!!

SLVFD News Room, January 11

We are extremely proud to introduce our new Auxiliary. Today's Adirondack Enterprise feature a photo of charter members. We will be doing a follow up, introducing them formally and providing a more in depth look at the valuable services they provide.... (Full Story & Photos)


Enjoy video of the 2018 Annual Lighted Fire Truck Parade!!!

SLVFD News Room, December 10

On Friday 12/7/2018 area fire departments went "Full Griswold" decorated their trucks and paraded Santa Claus through the village of Saranac Lake where he was delivered to the Town Hall where area children anxiously awaited his arrival.

Each year the area departments compete for the best decorated fire truck. A trophy is passed around from department to department who get to hold the trophy for the ... (Full Story)




Click Here to See Slide Show
Adirondack Daily Enterprise "Year of the Floods"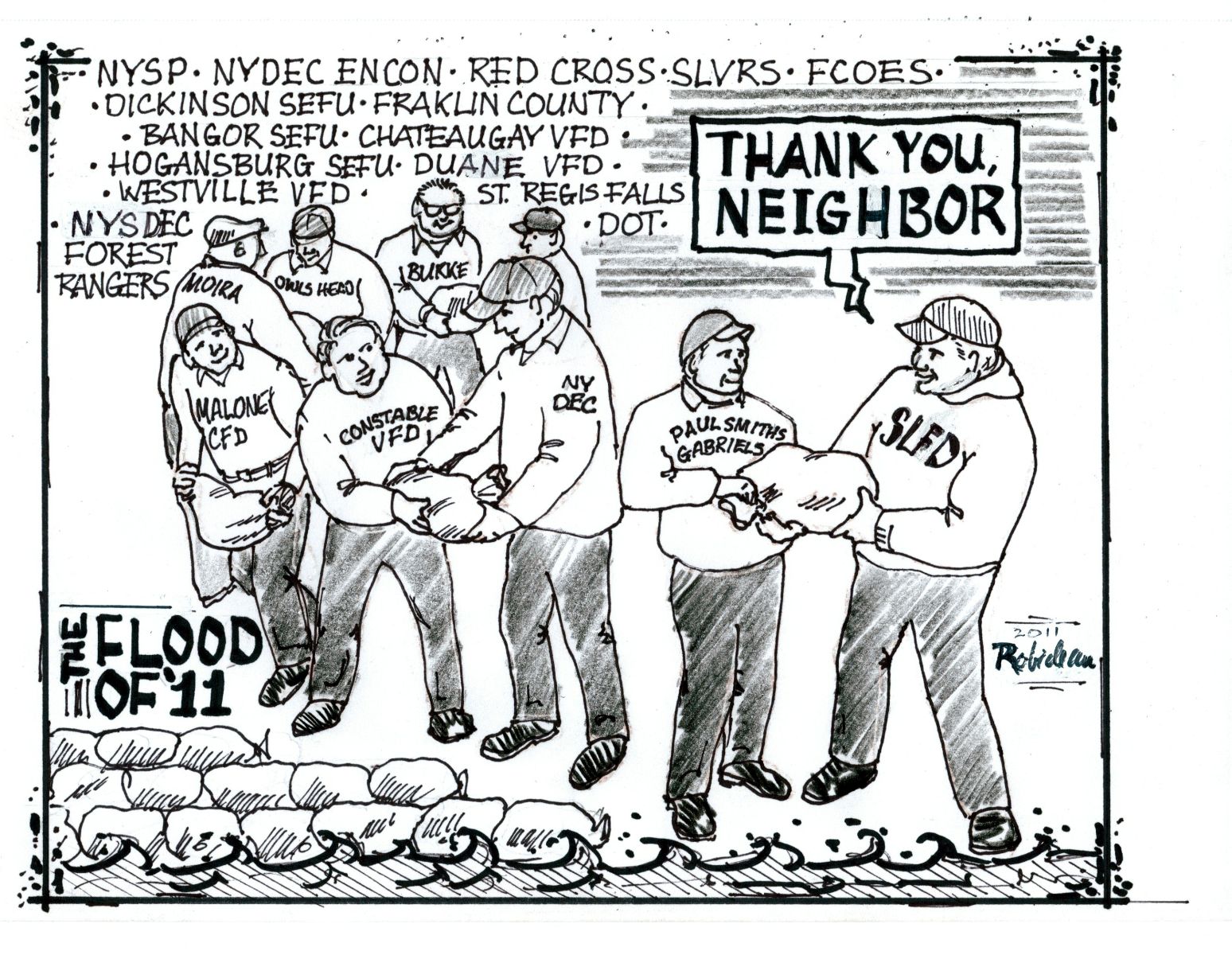 Contributed by Village of Saranac Lake Mayor Clyde Rabideau In Response to Major Flooding Incident April/May 2011
Click Here for Full Size Image
View NY State Daily Dispatch
Fire Service News From Throughout NY State